LEDs (Light Emitting Diodes) are solid light bulbs which are extremely energy-efficient, they consume up to 92% less energy compared to conventional incandescent bulbs and offer about 50% savings when replacing fluorescent tubes. As they are now available with standard bases which fit common household and commercial light fixtures, they quickly becoming the standard for most lighting needs.
CFL bulbs were introduced to replace incandescent bulbs, but were over shadowed by LED bulbs to become the new standard of lighting.
Old incandescent bulbs almost had same lighting power per watt (measured by Lumens), but with the introduction of LED lights, the lighting power per watt is no longer the same, and a better LED will render a higher (light) per Watt. Therefore, it became necessary, when comparing LED bulbs, to indicate how many Lumens each LED bulb is producing in addition to how many Watt it is using. So an A-19 LED bulb that uses 9 Watt and producing 806 Lumens of light is better than an 11Watt bulb that produces same amount of light (806 Lumens), because the later is using 12.22 % more power to produce the same amount of lighting.
Cnet, published a comparison chart to show the correlation between Watts and Lumens in both technologies. It must be noted that LED technology is continuously improving, so the chart values should be taken as an example only.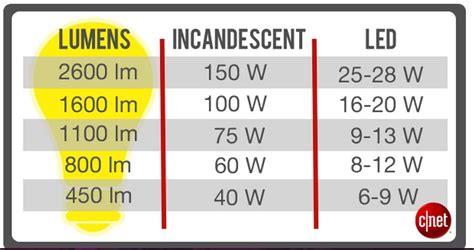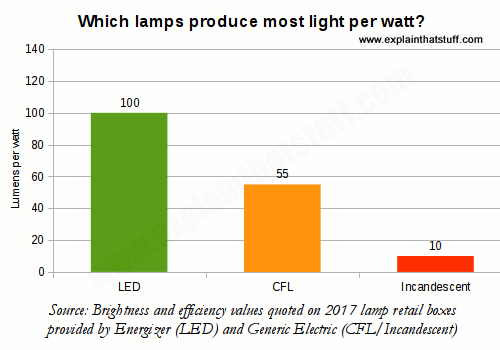 8 Reasons to change to LED lighting ASAP!
So, if you're still using old-fashioned, incandescent light bulbs you're neither doing yourself nor the environment a favor. It's time to make the switch to the LED light.
The amazing array of benefits associated with LEDs, creating a race to adopt them in all new lighting projects, and endless upgrade projects generating an unprecedented demand of this technology.